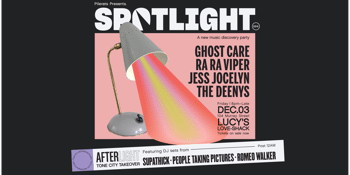 Pilerats
SPOTLIGHT 004 ft. Ghost Care
Ghost Care, Ra Ra Viper, Jess Jocelyn, The Deenys
Lucy's Love Shack (Perth, WA)
Friday, 3 December 2021 8:00 PM
SPOTLIGHT - Pilerats' monthly music discovery party - is back for one last show of 2021, and it might just be our best one yet. Over the last four months, we've drawn attention to some of Perth's most exciting musical pockets, from its growing funk and R&B scenes to the punk and hardcore thriving in the underground. This December, SPOTLIGHT returns with an indie-rock twist, rounding out the year with some of our favourite local acts of 2021.
Introducing the lineup to SPOTLIGHT 004:
GHOST CARE (LIVE)
RA RA VIPER (LIVE)
JESS JOCELYN (LIVE)
THE DEENYS (LIVE)
Then, from midnight, we're handing the reigns over to our pals at Tone City for an AFTERLIGHT takeover full of great tunes and tomfoolery, guest starring some of our good pals:
SUPATHICK DJ SET
PEOPLE TAKING PICTURES DJ SET
ROMEO WALKER DJ SET
SPOTLIGHT 004
Tickets On Sale Now.
Friday, Dec 3rd // 8PM - late.
Lucy's Love Shack
104 Murray St, Perth
Listen to the SPOTLIGHT Spotify Playlist for more great tunes, and to get a taste of what to expect from the future: bit.ly/spotlight-playlist.