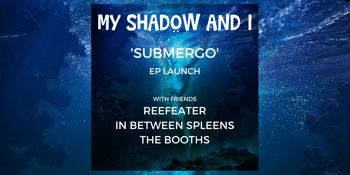 My Shadow and I 'SUBMERGO' EP Launch
with Special Guests
Lucy's Love Shack (Perth, WA)
Saturday, 13 March 2021 8:00 pm
My Shadow and I - 'SUBMERGO' EP Launch
With Special Guests
REEFEATER, Inbetween Spleens and The Booths.
Date: Saturday, 13th March
Doors Open: 8PM
Tickets $15 (INCL BF)
$15 at the door
My Shadow and I are an original four-piece punk-rock band from Mandurah.
Influenced by bands like Jimmy Eat World, Story of the Year and the early 2000's punk rock scene in general. The band focuses on writing super-catchy, guitar-driven melodies to accompany their high-energy performances. After a long stint in the studio recording and producing all their own tracks, MSAI is ready to hit the stage.
Join them at Lucy's Love Shack to celebrate the release of their debut EP 'SUBMERGO'
Supported by local legends REEFEATER, Inbetween Spleens and The Booths. You don't want to miss out on this epic line up!
The first release from the record, 'JUSTIFY' dropped in late October and gives audiences a sneak peak into the fresh, hard-hitting and energetic sound the band has been working on. Go and check it out on Spotify NOW and stay tuned for the release of SUBMERGO!