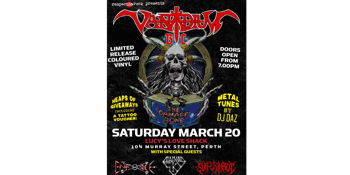 respectdarock records
Vanadium B.C. "The Damage Done" 25th Anniversary Vinyl Release
Suffer In Rot, Enforce and Diamond Sky
Lucy's Love Shack (Perth, WA)
Saturday, 20 March 2021 7:00 PM
"respectdarock records" Presents VANADIUM B.C. 25th Anniversary of The Damage Done and Vinyl Re-release (Being Exclusively released by respectdarock records) PARTY! Also a reunion get together for the 25th Anniversary of The White Gum Valley Riot launch show from 1995!
3 different coloured Vinyl's being released on the night including a special Launch only colour available at this show.
Special Guests : Suffer In Rot, Enforce & Diamond Sky.
DJ Daz from Western Front will be spinning all your favourite tunes in between sets.
.
Heaps of great giveaways from Heavy Metal Merchant, Hornography and a Tattoo Voucher from Wade Barry Tattoos at Against The Grain Tattoos in Warwick...
Vanadium B.C.: Formed in 1993 as Vanadium the band played in the "Golden Era" of Western Australian Metal and released their debut album The Damage Done in 1995. In 1996 the band was buried. In 2018 almost 22 years later they were born again and rose from the grave as Vanadium B.C. With The Damage Done 1st pressing now selling for $1000+AUS internationally they are bringing it back for the 1st time exclusively on Vinyl through respectdarock records. Get ready for a blistering set of their classic 90's tunes and more from their revamped line-up of their Thrash influenced "Pure Australian Metal"!
www.vanadiumbc.com